I may be late with the BET Awards 2012 Highlights but better late than never. Let me just start off by saying this was the best BET Awards ever in a long time! I haven't screamed and shouted at an award show since I don't know when. BET didn't upset me Sunday night.

Here are my favorite highlights from the show:
First and foremost can we discuss how RICH the front row was? The camera man was giving tv moments to The Throne who include Jay-Z, Kanye West, Beyonce and new to the crew Kim Kardashian. I was ecstatic to see the four of them along with Solange Knowles and her boyfriend video director Alan Ferguson (who won a BET Award with Beyonce for "Party" in the Director of the Year category). I love this pair of power couple and finally blogs and haters can drop the rumors of Beyonce hating Kim Kardashian; the two are very good acquainted friends.
Of course I loved the opening performance by G.O.O.D artists Kanye West, Pusha T and Big Sean along with 2 Chainz as they performed the smash radio hit "MERCY". Kanye West towards the end of the performance did an impromptu freestyle.
It was a BIG night for THE THRONE as they won an award for Best Duo/Group! I enjoyed Jay-Z making fun of Kanye West by interrupting Kanye as he was citing his thank you speech like Kanye did at 2010's MTV VMA's when he interrupted Taylor Swift.
Seeing some of the Destiny's Child members in the theater was a BIG highlight. LeToya Luckett and Michelle Williams were each others dates as they hit the red carpet and also sat next to each other. Michelle's dress did it for the occasion, as though LeToya was giving me a wrapped yellow mummy tease.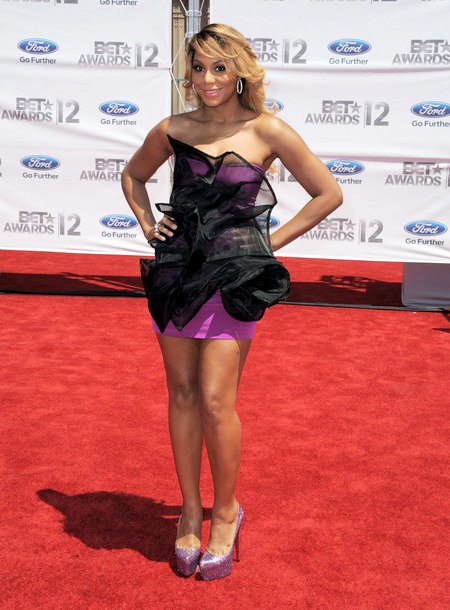 Breakout star of the Braxton Family Values, Tamar Braxton who co-hosted the Pre-Show looked very fab in her dress. Her makeup and hair was ON POINT! Tamar is definitely stepping into her own lately, WATCH OUT! ... Now Where's That Long Awaited Album?!!
Newly RnB group TTG (Tank, Tyrese and Ginuwine) graced the red-carpet having women throwing their panties towards their tv screens. The three men were Eye Candy throughout the night.
Tamia who will always remain beautiful won fans best dressed on the red carpet. Check out her new single "Beautiful Surprise" on iTunes now!
TV Personality/Host/Actress LaLa Anthony looked phenomenal in her comfortable summer time jumpsuit looking like a Hispanic Princess Jasmine. Go Head LaLa!
Gawwwwwhhhh if only Boris Kodjoe was single and attracted to me! Boris Kodjoe was another spotted Eye Candy throughout the night.
Nicki Minaj who performed "Champion" and "Beez In The Trap" of her sophomore album Pink Friday:Roman Reloaded; finally acted sane on stage along with rapper 2 Chainz. My mother was obsessed with her eyes all night!!! Nicki Minaj your eyes were popping and I loved your performance! Is that all of your cakes though?!
Melanie Fiona reminded us how GOOD RnB music is as she beautifully belted out her hit single "Wrong Side Of A Love Song". The song is off her highly anticipated amazing sophomore album The MF Life out in stores! AMAZING ARTIST! I think Adele and Melanie Fiona should go on tour together!
Keri Washington who looked shockingly drop dead gorgeous to me for the first time stunned my whole body in her ensemble. Her makeup and hair was simply flawless; gosh that small frame gets all the roles!!!
BET Lifetime Achievement Award recipients Frankie Beverly and Maze reminded us why old skool music will NEVER go out of style.
The Whitney Houston Tribute performed by Monica, Brandy, Chaka Khan and Cissy Houston made the whole world shed more than just a few tears.